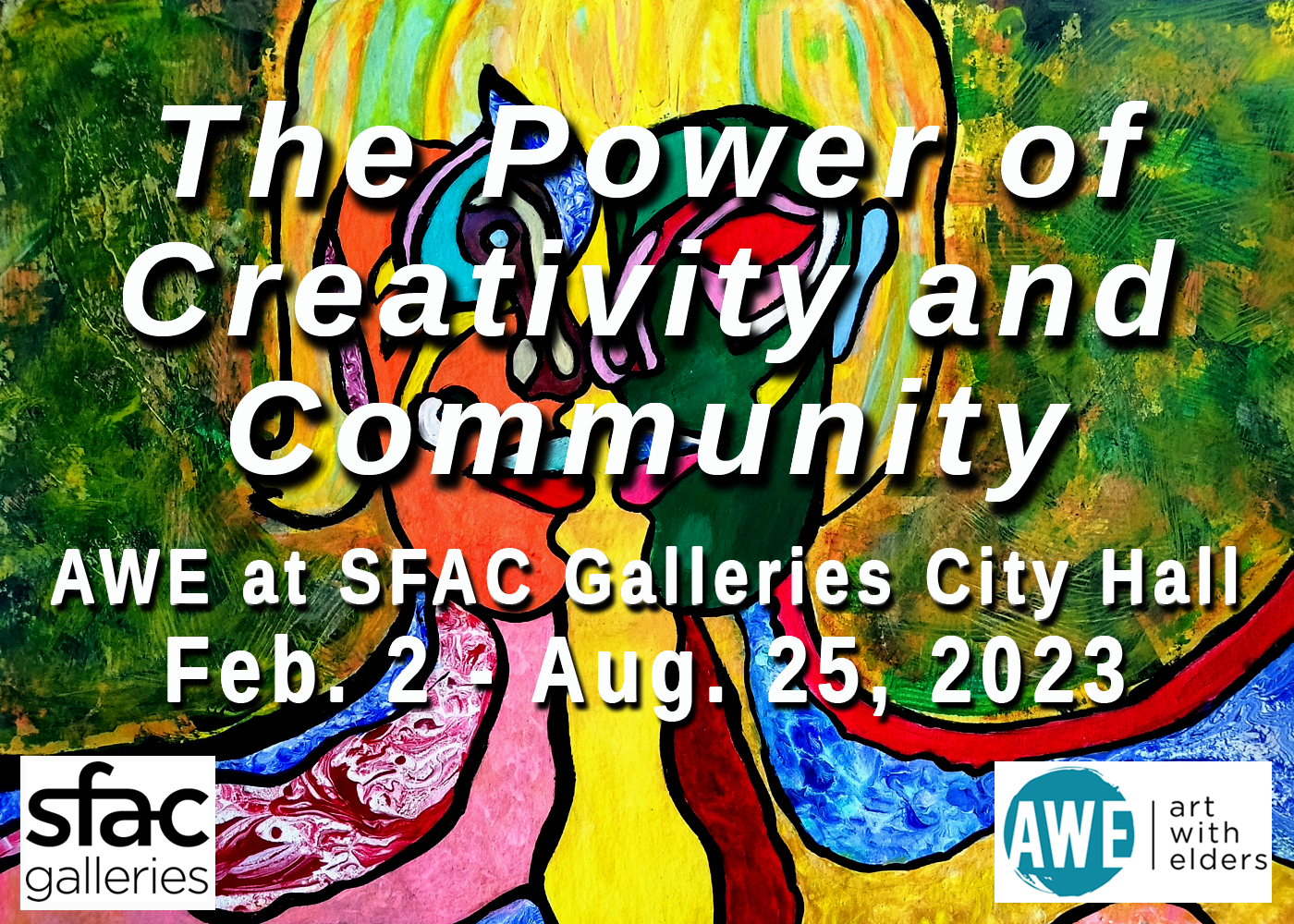 Thu. Feb. 2 – Fri. Aug. 25, 2023
Opening Reception Thu. Feb. 2, 5-7pm (Free and open to the public)
Art With Elders: The Power of Creativity and Community at
SF Arts Commission Galleries at San Francisco City Hall
1 Dr Carlton B Goodlett Pl, San Francisco, CA 94102
Art With Elders (AWE) in partnership with the San Francisco Arts Commission (SFAC) Art in City Hall program are proud to present The Power of Creativity and Community, an exhibition that showcases over 90 original paintings and drawings made by seniors participating in the AWE program from forty programming sites and community partners located throughout San Francisco and the Bay Area.
The exhibition is organized in four groups: artworks selected for the AWE 30th Annual Exhibit and AWE Over the Years: Works from the AWE Archive, as well as artworks created by artists participating in the AWE Senior Bridge Project: Mental Health and Social Connection and in classes at Laguna Honda Hospital. The Power of Creativity and Community celebrates the many artists who have participated in the program by sharing their incredible artwork and their creative voice. Each work is accompanied with a portrait of the artist and information about their life and practice.
The exhibition will be on display on the Ground Floor and in the North Light Court of San Francisco City Hall and is free and open to the public. Hours: Monday – Friday, 8:30 a.m. – 5:30 p.m.
𝐀𝐃𝐀 𝐀𝐜𝐜𝐞𝐬𝐬𝐢𝐛𝐢𝐥𝐢𝐭𝐲
For wheelchair lift, please use the Grove Street loading dock, where you may take the elevator up to the 1st floor.
𝐂𝐎𝐕𝐈𝐃 𝐒𝐚𝐟𝐞𝐭𝐲
Per current health guidelines, masks are recommended, but are not required in City buildings. Visit
sf.gov/masks
for further mask guidance.
Cover art: "i found you" by Hilda Ibarra – Mission Neighborhood Centers, Inc.
San Francisco Mayor London Breed
Exhibit Event Opening Remarks
AWE at SFAC Galleries City Hall