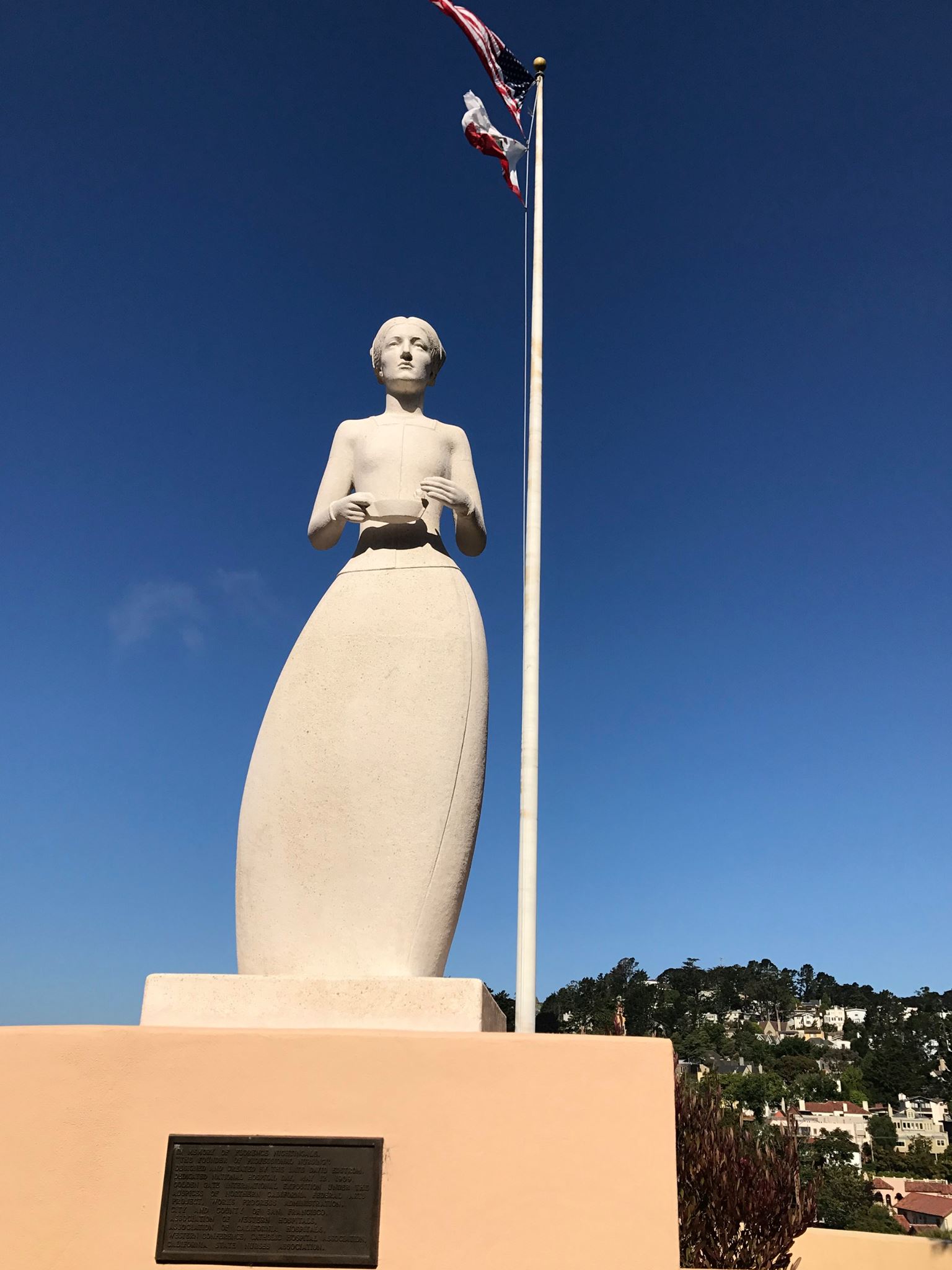 Laguna Honda Hospital, home to 750 vulnerable residents, has recently been threatened with closure. Although there have been challenges, Laguna Honda administrators and staff have implemented a variety of new protocols to ensure all appropriate health and safety standards. Please read below an appeal by AWE Executive Director Mark Campbell in support of keeping Laguna Honda Hospital open:
"Ten years ago, Dr. Victoria Sweet offered her perspective on Laguna Honda Hospital (LHH) in her book, God's Hotel, which has served needy San Franciscans since 1866 and remains one of the largest institutional care communities in the country. It has the rare ability to meet patients where they are and provide specialized care combined with therapeutic programming not tenable at smaller care homes.
I've been providing art classes to Laguna Honda residents three days a week for over 25 years through my non-profit Art With Elders (AWE) and can attest to the good work and positive outcomes Sweet described.
When Laguna Honda planned to rebuild due to seismic vulnerability and then transfer its 750 residents into the new building in 2010, AWE was invited by then Executive Director, Larry Funk, to consult on the design of an art studio. That invitation as well as other carefully considered programs, clinics, well-appointed facilities/rooms, therapy pool and small farm were all clear signs that quality patient care was of prime importance.
There is always a lengthy waiting list for admittance to LHH. But far too few beds are available to accommodate our elder, frail and psychologically troubled San Franciscans; Laguna Honda remains a life-affirming oasis in an increasingly hostile environment for these, our most vulnerable neighbors.
When Covid first appeared and began ravaging the frail, elderly and disabled, we heard horror stories about devastating loss of life at large nursing homes everywhere. At LHH, we were terrified that we would see similar tragedy. Months progressed and there were limited reports of illness, and those were managed successfully; loss of life was kept at a seemingly impossibly low threshold. LHH and its overseer, the San Francisco Dept of Public Health, were held up as national examples. The devoted teamwork of skilled care workers, combined with dedicated and nimble administration, demonstrated how a large community like LHH could contend proficiently with such a potentially catastrophic health crisis.
As COVID became "manageable" the staff faced a new obstacle: they were criticized for the near impossible task of policing the few desperate, younger, drug afflicted rogue residents, who remain in dire need of a more specialized care setting. These people  are at LHH because there is nowhere else for them to go!  The looming opioid crisis is a real challenge, especially within the compassionate framework celebrated by our progressive city.
First, figure out how to solve the rampant nation-wide chemical dependency epidemic, and then hold LHH to these, now wholly unrealistic, standards.  Let's fix it, not destroy it.
The misguided expressions of authority and counterintuitive policy, have led to a "shut it down" order. It will inflict pain on our entire community, but I can say first-hand that those bearing the brunt of this ill-conceived experiment are our beloved and vulnerable residents.
Imagine suffering a third relapse of cancer; your family visits regularly during your few remaining days, and you now learn that you are being transplanted far away to a completely unfamiliar home to die. You're fully aware that your devoted family will be unable to afford regular visits. 
Imagine that you've spent much of your life homeless. You finally secure admittance to LHH and have weened yourself off destructive chemical dependency which nearly took your life. You've rehabilitated to a degree of physical stability, despite having lost legs to diabetes. Now you're looking at being cast back into the streets from which you managed to escape. Your fear is all encompassing. 
It remains unclear to me who or what bureaucratic mechanisms bear responsibility for this slowly unfolding process of cruel destruction, but WE SIMPLY CANNOT LET IT HAPPEN. We can and must all do better. The cost to our most vulnerable brothers and sisters is unforgivable. We need more beds, not fewer! Destroying Laguna Honda will only accelerate the critical healthcare problems San Francisco and our entire country faces."
Let's keep the lights on in God's Hotel…
Mark Campbell
Executive Director ART WITH ELDERS
6/22/22
Saving Laguna Honda Hospital – God's Hotel in Mortal Danger?