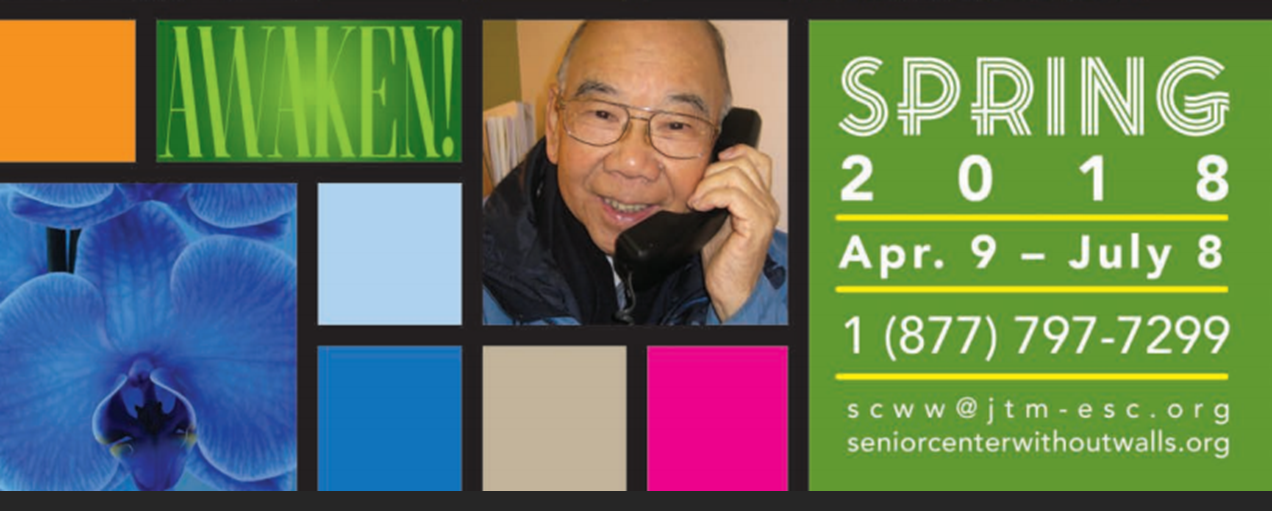 Art With Elders will be featured in a Special Event program of Well Connected (Formerly Senior Center Without Walls) on Friday April 27th at 1-2pm. We will have an opportunity to show off our stuff to 1,200 seniors across 38 states as our Director, Mark Campbell discusses our AWE program with a slide presentation which will be viewable online and in hard copy for participants. See their Program Catalog here:
https://covia.org/wp-content/uploads/2018/03/Spring-2018-Catalog.pdf
Senior Center Without Walls (SCWW) is a non-denominational program of Episcopal Senior Communities. It is a phone and online-based program offering activities, education, friendly conversation, and an assortment of classes and support groups to older adults accessible from the comfort of home. Play a game, write a poem, go on a virtual tour, meditate, share a gratitude, get support, and most importantly, connect and engage with others every day across the country. SCWW is a community made up of participants, staff, facilitators, presenters, and other volunteers who care about each other and who value being connected. All groups are accessible by phone and many are accessible online! Find out more about their innovative offering on their website,
https://www.seniorcenterwithoutwalls.org/
or find them on Facebook.
AWE Featured on Well Connected/SCWW Fri Apr 27 1-2pm