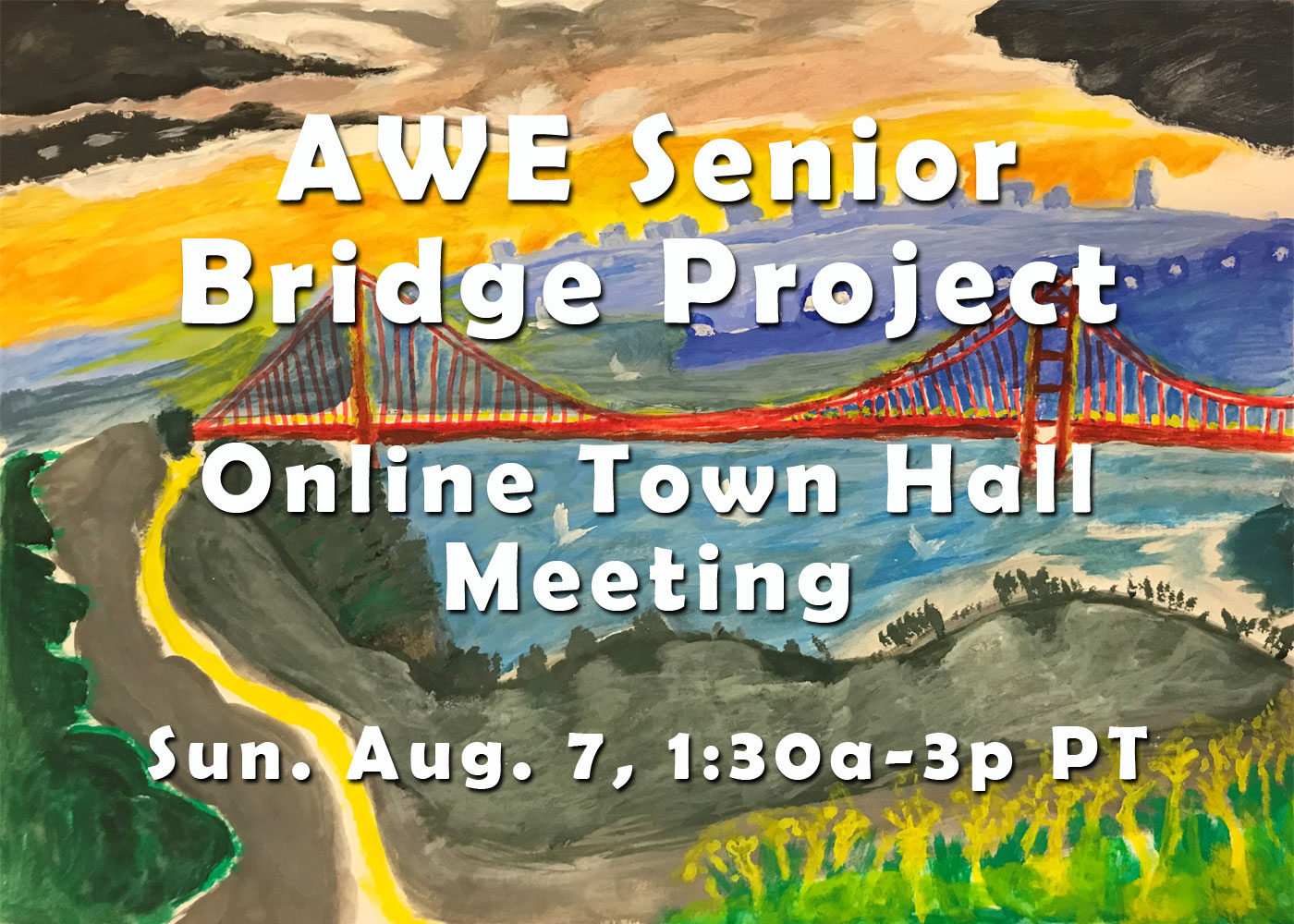 Art With Elders invites all of our Artist Participants, Community Partner Staff, Friends, and Family to join us for this online meeting and art presentation. During this special gathering of our AWE family, we will showcase a presentation of current artwork from the AWE classes and discuss the "AWE Senior Bridge Project."
AWE is hosting this Town Hall meeting as a part of the AWE Senior Bridge Project. During the meeting, we will identify and discuss issues of concern in the lives of our senior artists. Artists will then be invited to create and submit art about the top 3 selected themes. In the next phase of the Senior Bridge Project, the created art will be displayed at several San Francisco venues October 2022 through June 2023. A video presentation of this project will be featured at our Annual Exhibit Opening Event on October 23rd.
We hope you can join us for this special event!

Join Zoom Meeting:
https://us02web.zoom.us/j/86567470139
Meeting ID: 865 6747 0139
Senior Bridge Project Discussion Topics
What are some of the challenges of aging, for you or people you know? 
(Common issue areas include: Ageism, Isolation, Anxiety, Transportation, Technology, Housing, Medical, Financial, Cultural/Social, Physical Safety at home and in community) 
What specific challenges arise for you with regard to disability, race, ethnicity, immigration status, religion/faith, income, geography, sexual orientation, gender identity, language, or family status? 
What challenges have presented themselves due to the COVID-19 pandemic? 
(Common issue areas include: limited access to physical and mental healthcare, social isolation, anxiety, depression, increased need to be able to use technology like computers, smart phones, etc., disruption of physical and creative activity routines) 
AWE Senior Bridge Project Town Hall Meeting